Plant-Based Chestnut Dumpling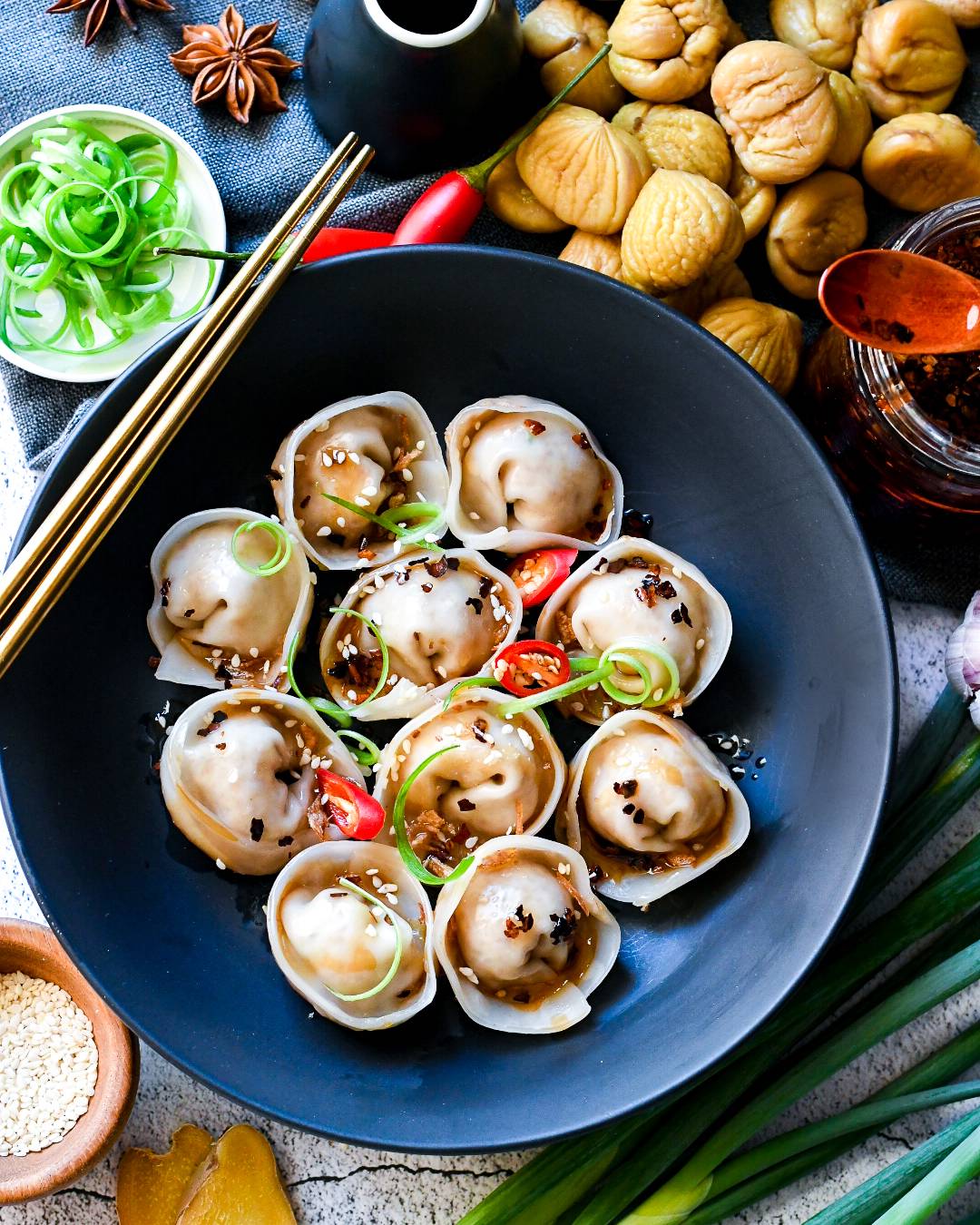 Ingredients
500g chestnuts, cooked and peeled*
2cm piece ginger
2 cloves garlic
1 teaspoon sesame oil
1 tablespoon oyster sauce
3 shallots, finely chopped (reserve some for garnish)
1 teaspoon cornflour
1/2 teaspoon Chinese five-spice powder
1 275g packet round dumpling wrappers (approx 30)
Soy sauce, chilli oil, black & white sesame seeds, fresh chilli and fried shallots for serving
NB: 800g of fresh chestnuts produces approximately 500g once cooked and peeled
Method
1. Place chestnuts, ginger, garlic, oyster sauce and sesame oil into a food processor. Pulse for two minutes or until the mixture starts coming together.
2.  Add the shallots, cornflour and Chinese five-spice powder. Stir.
3. Lay dumpling wrappers on a board, eight at a time. Using a pastry brush dipped in water, lightly brush the edges of each wrapper.
4. Place a heaped teaspoon of the filling onto each wrapper and fold in half using your fingers to seal the damp edges.
5. Bring the two corners of the dumpling together and press to complete the dumpling.
6. Meanwhile, prepare a bamboo or stainless steel steamer by lining it with baking paper that has had several holes cut into it for the steam to pass through. Place steamer over boiling water.
7. Steam the first batch of dumplings for ten minutes, while preparing the next.
8. Continue until all dumplings have been made and steamed.
9. Serve with soy sauce, black & white sesame seeds, fresh chilli, chilli oil and fried shallots. Use reserved shallots as garnish.