Chestnut, spinach & green pea soup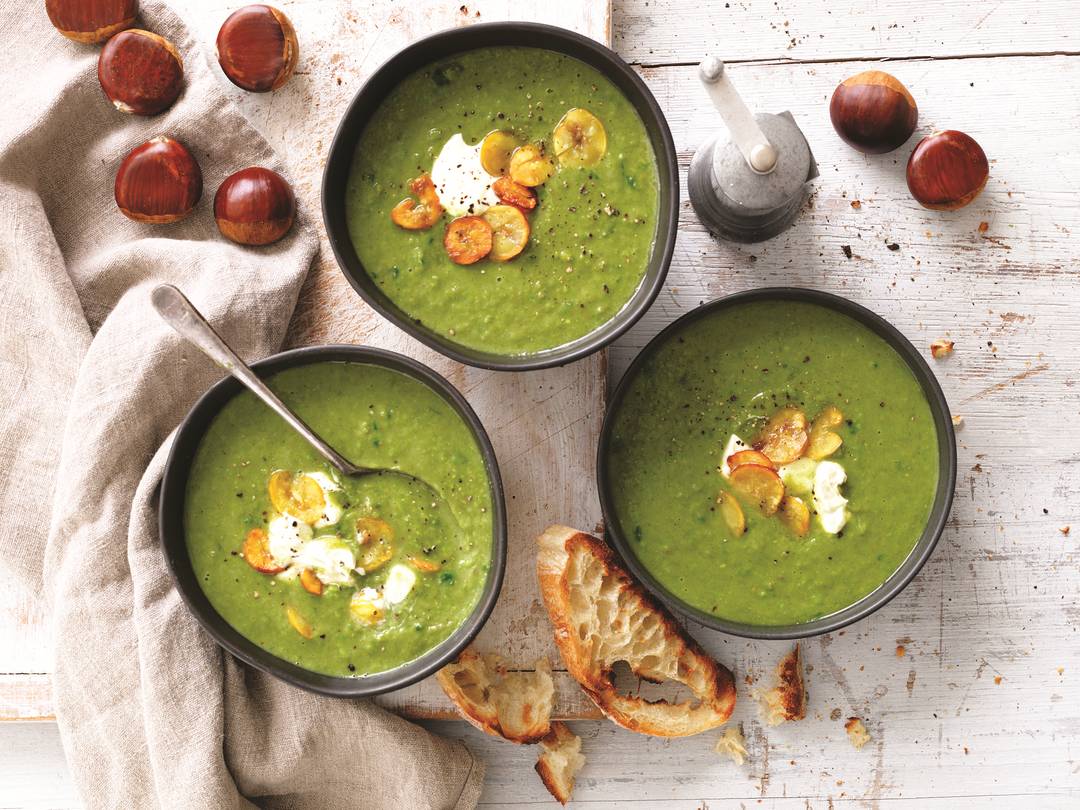 Ingredients
*this soup thickens on standing – add extra stock if necessary.
2 tbls olive oil
1 leek, trimmed, halved lengthways, washed and sliced
2 garlic cloves, chopped
400g cooked and peeled chestnuts, roughly chopped
4 cups chicken stock
100g baby spinach leaves
1½ cups frozen green peas
Sour cream, to serve
Method
Heat oil in a large saucepan over a medium heat. Add leek and garlic and cook, stirring often, for 3-4 minutes until softened.
Add chestnuts and cook, stirring occasionally, for 5 minutes. Add stock, cover and bring to the boil. Reduce heat, cover and simmer for 5 minutes. Stir in spinach and peas. Cover, reduce heat and simmer for 3-4 minutes until peas are tender.
Remove from heat and puree with a stick blender until smooth. Season to taste. Ladle into bowls and top each with a dollop of sour cream. Sprinkle with chestnut crisps* if liked and serve.
*To make chestnut crisps; slice 50g of cooked and peeled chestnuts in a little olive oil in a frying pan over medium-high heat, tossing often, until golden. Drain on paper towel.
Prep Time
15 mins + Chestnut Prep Time