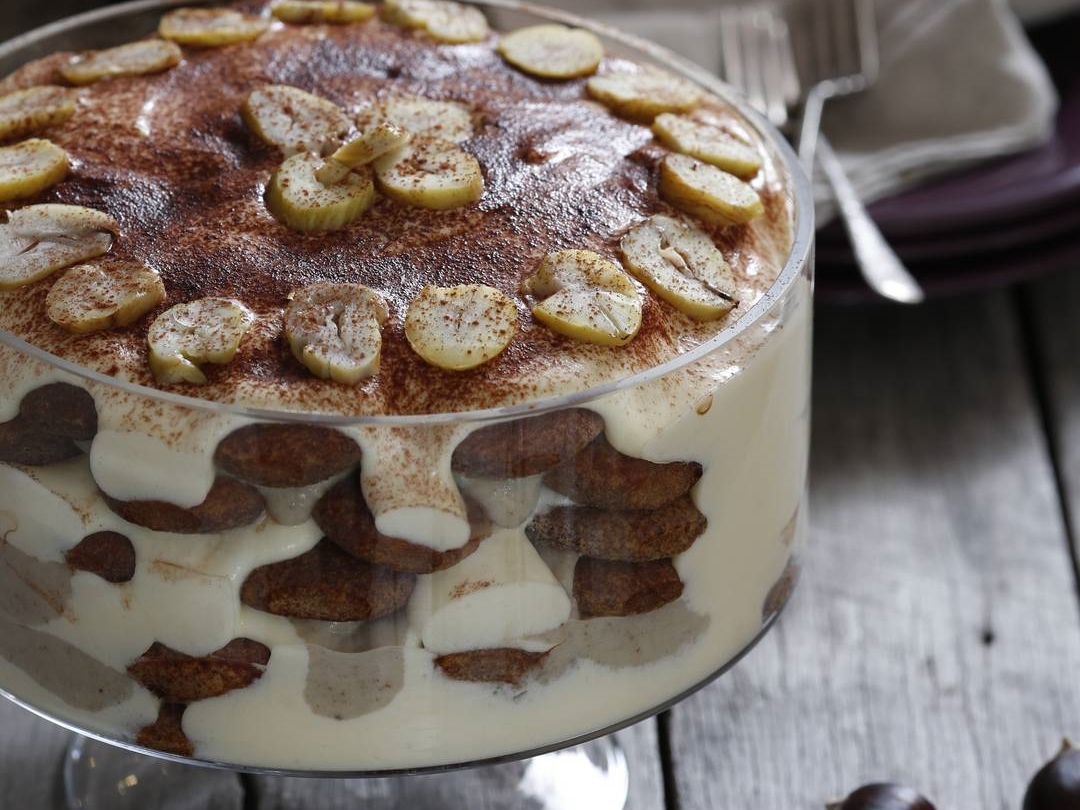 Ingredients
500g fresh chestnuts (or 350g frozen peeled)
250ml milk
3 tbls brown sugar
1 tsp vanilla essence
3 eggs, separated
100g caster sugar
300g mascarpone
32 Savoiardi biscuits (Italian sponge fingers)
400ml water
4 tbls cocoa powder plus 1 tsp for dusting
Method
Score chestnuts and place in boiling water for 10 minutes. Peel to remove both skin and fine inner pellicle as soon as they're cool enough to handle. They'll peel better warm.
Thinly slice 8 peeled chestnuts. Place the rest in a small pot with milk, brown sugar and vanilla essence. Simmer on very low heat for 15 minutes until chestnuts become very soft. Remove from heat and set aside to cool, then blend in a food processor until smooth. If necessary, add 3-4 tablespoons more milk to get a creamy consistency.
Beat egg yolks and caster sugar together until the mixture becomes pale. Beat the whites in a separate bowl until they form fluffy peaks.
Mix yolk and sugar mixture together with the mascarpone, then fold the whites in gradually.
Mix 4 tablespoons of cocoa powder with 100ml of water to dissolve, then add remaining water.
Dip 8 biscuits two at a time for a second on each side in chocolate water, then arrange in a layer on the bottom of a high-sided 26cm serving dish.
Spread on a layer of the mascarpone and then dollop on some chestnut puree, spreading with a spatula. Repeat the process until all the biscuits and mascarpone have been used up, finishing with a layer of mascarpone on top. Scatter the sliced chestnuts over and sprinkle with remaining cocoa powder.