Roasted Pork Loin with Chestnuts and Veg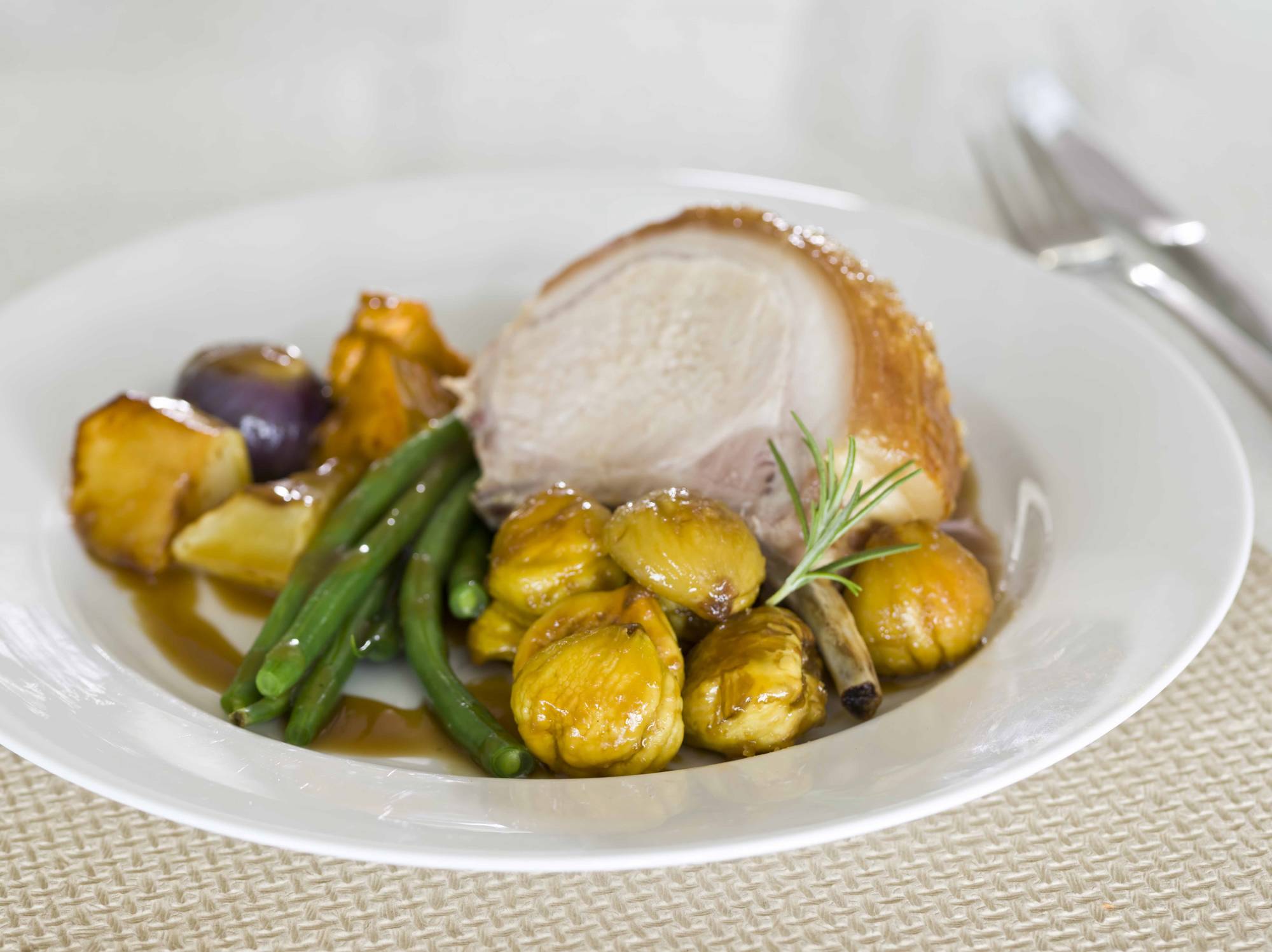 Ingredients
1.2 kg rolled boneless pork loin, skin on
2 teaspoons vegetable oil
1-2 teaspoons table salt
300g pumpkin, peeled
4 medium potatoes, peeled
4 small- medium purple onions, peeled
1 litre liquid chicken stock
2 tablespoons white wine
300g green beans, topped and tailed
12 fresh chestnuts, roasted and peeled
Method
Heat the oven to 200°C.
Place the pork into a medium roasting tray. Rub with the vegetable oil and
sprinkle generously with salt. Place into the oven for 30 minutes .
Chop the pumpkin into 2 – 2.5 cm dice and place into the roasting tray with the pork. Baste with oil from the roasting tray. Reduce oven temperature to 180°C and place tray back into the oven. Continue to cook for a further 40- 50 minutes, basting regularly until pork is golden and crackling crispy.
Place the chicken stock in a small to medium saucepan and bring to the boil. Continue to boil until reduced by half.
Remove pork from oven and rest, covered on a separate plate. Drain fat from pan, being careful to retain pork juices.
Place baking tray on medium heat on the stove and add the wine, stirring with a wooden spoon to loosen pan drippings. Add the stock, and boil for 3-5 mins, or until thickened slightly. Add the chestnuts to warm slightly.
Bring a small pot of water to the boil. Cook beans for 2 – 3 mins, or until cooked.
Meanwhile slice the pork and serve with the crackling, chestnuts vegetables and gravy.